Guo-li Ming
IN A NUTSHELL
Neuroscientist Guo-li Ming's pioneering work with brain organoids led to an early discovery of the link between Zika and microcephaly, which is changing our understanding of disease and potential treatment.
ABOUT GUO-LI
As Perelman professor of neuroscience at the Perelman School of Medicine at the University of Pennsylvania,
Guo-li Ming
heads a laboratory that is currently creating and using organoids to model disease and treatments in the brain—specifically for Zika and microcephaly, and other neurological disorders. Initially receiving medical training in China in the 1990s, Guo-li became more interested in research after moving to the US. After studying neuron communication at UC San Diego, she became an assistant professor at Johns Hopkins to study neural development processes during both embryonic development and in the adult brain. Guo-li is a frequent collaborator with her husband, Hongjun, who studies neural stem cells and neurogenesis. She has received a number of awards and is a member of the Society for Neuroscience and the American College of Neuropsychopharmacology.
LEARN MORE
Video: Guo-li Ming on studying brain development
Spotlight Live: Zika Virus and the Brain
Racing to uncover the link between Zika virus and microcephaly, 2017.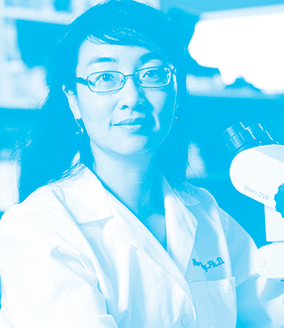 Brain Organoid Pioneer