Emtithal "Emi" Mahmoud
IN A NUTSHELL
What if we could speak the unspeakable?
ABOUT EMI
Emi Mahmoud is the reigning 2015 Individual World Poetry Slam Champion and 2016 Woman of the World Co-champion. One of BBC's 100 Most Inspirational Women of 2015, Emi studied Anthropology and Molecular Cellular & Developmental Biology at Yale University and is a Darfur native from the heart of Philadelphia. A UNHCR High Profile Supporter, a Yale Global Health Fellow and Leonore Annenberg Scholar, Emi dedicates her time to spreading understanding through poetry and advocacy, particularly for the cause of refugees and disadvantaged communities the world over. A TEDMED 2016 speaker, and closing speaker for Yale University's 2016 graduation ceremony, Emi has part-taken in multiple White House round-table discussions, including a session with President Obama, and has presented at multiple United Nations events, opening and closing for the Secretary General. In December, she spoke at the Laureates and Leaders Summit in New Delhi and launched the historical 100 Million child advocacy campaign alongside the Dalai Lama, President Mukherjee, Kailash Satyarthi and 14 other Nobel laureates and Leaders. A member of the Philanthropy Age How to Do Good speaking tour and a Hedgebrook writing fellow, Emi has entered profound spaces across countless audiences—spanning four continents in person and the entire international community digitally.
LEARN MORE
Individual World Poetry Slam Finals 2015 - Emi Mahmoud Final Round
Mahmoud E. Poetry Slam Inc. 2016.
Darfur poet triumphs in international poetry slam
Flood A. The Guardian. 2015.
Today's Inspiration Comes From this Young Sudanese-American Slam Poet
Evans D. NY Magazine. 2015.
Emi Mahmoud - "The Colors We Ascribe"
Mahmoud E. Button Poetry. 2015.
Emi Mahmoud - "People Like Us"
Mahmoud E. Button Poetry. 2013.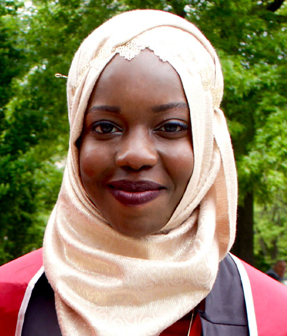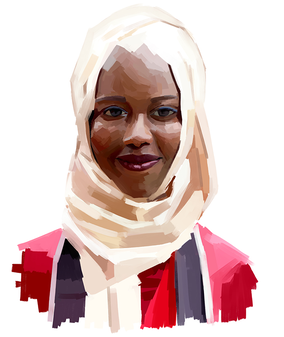 Refugee Bard