Art of Motion Dance Theatre
Art of Motion Dance Theatre, known for using dance to explore body and mind as creative instruments, performs a piece celebrating the divinity of nature.
"A flash of what is happening now… Lesniak has a great theatrical sense… the choreographer is in touch with the times in which we live." — Dance Magazine
ABOUT ART OF MOTION DANCE THEATRE
Art of Motion Dance Theatre (AOMDT), based in the New York metropolitan area, is a repertory company featuring a dozen classical, modern, and street dancers performing original theatrical works by Artistic Directors Lynn Lesniak Needle, RYT/500, former soloist of the Nikolais Dance Theatre, and Olivia Galgano, former Principal of Ballet Russe de Monte Carlo. Drawing from these contemporary and classic legacies, as well as from yoga and eastern philosophies, AOMDT creates vital works inspired by earthly and imaginary worlds. The company collaborates to explore the physics of partnering and the potential of sculptural shapes, and to reimagine lost and exotic legends based on human perceptions of life, nature and the divine.
MEET THE MEMBERS OF AOMDT
Artistic Directors: Lynn Lesniak Needle and Olivia Galgano
Costume Designer and Performance Artist: Annie Hickman
Company Manager: Linda Combs
Lighting Designer: Ruth Grauert
Principal Dancers: Gabriel Alvarez, Janette Dishuk, Ayla Hitron, Austin Jarred, Courtney Karam, Kent Lindemer, Lynn Needle, Romainson Romain and M.A. Taylor
Choreographers: Lynn Lesniak Needle and Olivia Galgano
Guest Choreographers: Kent Lindemer and M.A. Taylor
Composers: Dr. Dinu Ghezzo, Dr. Linda Marcel, John LaBarbera, Steve Gorn, Guido Arbonelli, Sony Tiwari, Gaelan Aguado
Filmmaker: John Crawford
ON THE TEDMED BLOG.
Entrancing Dance
Q&A with Art of Motion Dance Theatre on the TEDMED Blog
MAJOR WORKS
HEAVEN and EARTH
Legend, Myth and Nature
Orphic Descent

MORE ABOUT AOMDT
What sparks your imagination?
Nature, light, the solar system, the full moon, music, dance as an art form, the ocean, the great outdoors, birds, and all those who move.

What is the hardest thing you have ever done?
To learn to live in the moment and appreciate each moment fully.

If you could meet anyone, living or dead, who would you meet?
We would like to meet Stevie Wonder, Philip Glass, Giuseppe Verdi, Pavlova, and Mickey
Hart, who are several artists (both living and dead) who have influenced our work.

How do you recommend we stay inspired?
Go to the theatre to see live music, dance and theatre as often as possible. Read biographies about the great choreographers, Balanchine, Robbins, Forsythe, Fosse, Ailey, Graham, Nikolais, Cunningham, Taylor among others. Visit museums and galleries, support the arts! Artistic influences include Alwin Nikolais, NYCB, Ballet Russe de Monte Carlo, Annie Hickman, Broadway, Yoga, Fashion, Art and Architecture Magazines, foreign films, the forest, nature, cooking, entertaining and every person you meet! Children are especially inspiring!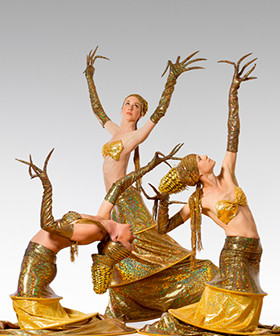 Modern Repertory Dance Company